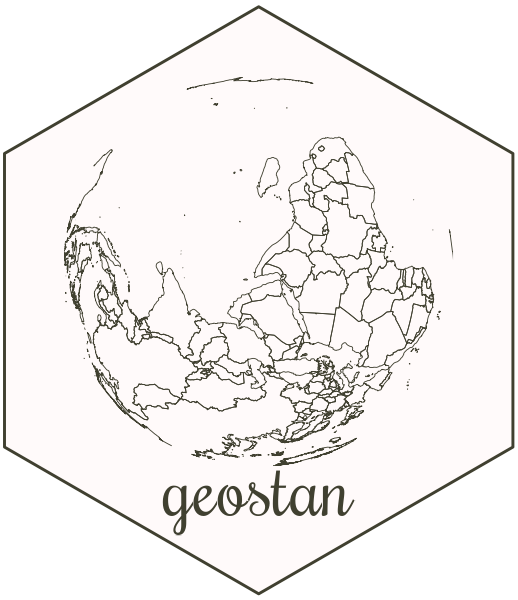 geostan: Bayesian spatial analysis
The geostan R package supports a complete spatial analysis workflow with Bayesian models for areal data, including a suite of functions for visualizing spatial data and model results. For demonstrations and discussion, see the package help pages and vignettes on spatial autocorrelation and spatial measurement error models.
The package is designed primarily to support public health research with spatial data; see the surveil R package for time series analysis of public health surveillance data.
geostan is an interface to Stan, a state-of-the-art platform for Bayesian inference.
Installation
Install geostan from CRAN using:
Usage
Load the package and the georgia county mortality data set (ages 55-64, years 2014-2018):
The sp_diag function provides visual summaries of spatial data, including a histogram, Moran scatter plot, and map:

There are three censored observations in the georgia female mortality data, which means there were 9 or fewer deaths in those counties. The following code fits a spatial conditional autoregressive (CAR) model to female county mortality data. By using the censor_point argument we include our information on the censored observations to obtain results for all counties:
Passing a fitted model to the sp_diag function will return a set of diagnostics for spatial models:

The print method returns a summary of the probability distributions for model parameters, as well as Markov chain Monte Carlo (MCMC) diagnostics from Stan (Monte Carlo standard errors of the mean se_mean, effective sample size n_eff, and the R-hat statistic Rhat):
More demonstrations can be found in the package help pages and vignettes.